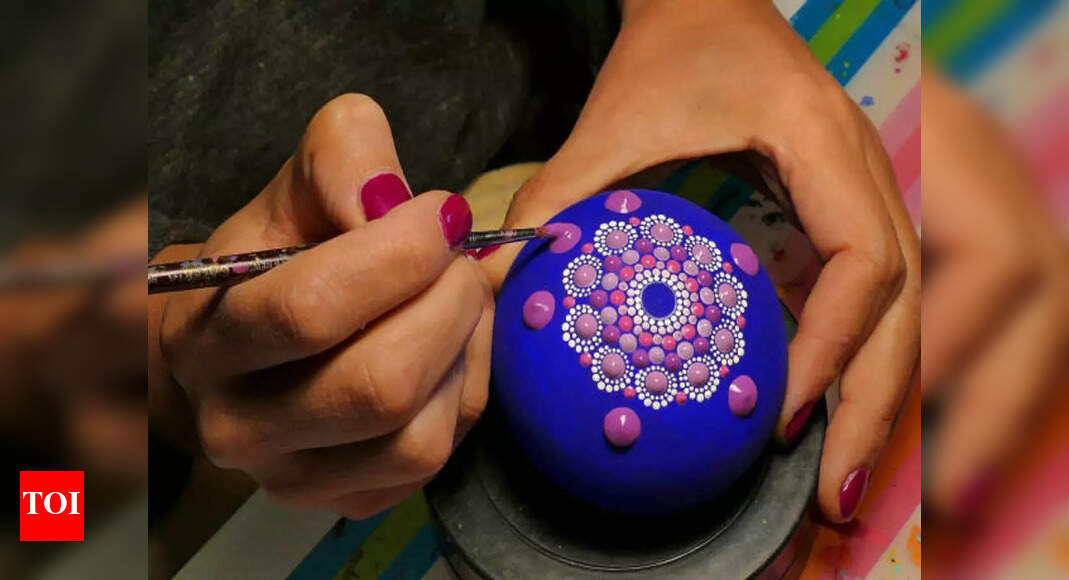 mandala: calming and therapeutic – How the mandala helps to heal and reduce stress
The mandala is not just an art form, it is presented as a representative of the entire universe by Buddhists and Hindus. It means a "circle" or "completion" in Sanskrit, and has always been used as an instrument of meditation. However, in recent times, the art has gained immense popularity for its healing properties. The intricate
art
of circular geometric patterns and the resulting symmetry soothes the senses and reconnects them to their inner selves, much like meditation.
'Mandala can help you grow as a person'

Although the art of Mandala does not require any prior knowledge or study, it does require patience and concentration. However, once in the "zone" you will see the benefits for yourself. Shweta Sureka, an Ahmedabad-based mandala artist, discovered this peaceful art during a chaotic time in life four years ago. "I had been in the art since childhood, but after becoming a mother, I turned to mandalas one fine day, and there was no turning back. Unaware of the benefits initially, I I was more and more drawn to it and it made me feel so good," she shares. It's the simple detail of art that helps you focus and let go of all thoughts in your As for the colors and patterns, they have a nice aesthetic appeal.
Shweta began taking Mandala workshops during the lockdown, teaching her students dot and ink patterns. "Some people get hooked immediately. But my only advice to beginners would be, while it's easy to make art, don't be too critical of your first attempts. As you grow, your art will also grow with you," adds Shweta.
"It heals, mentally and physically"

The benefits of the mandala for relieving stress are well known, but it can also aid in physical healing. Numerous clinical studies conclude that it strengthens the immune system, lowers blood pressure and stimulates sleep. Vaidehi Jadeja, a self-taught Mandala artist, shares how it healed her. "I worked as an interior designer, but there was some instability in my life and in my mind. Mandala came to me as nothing but meditation. I used to get sick many times before, but it improved my health tremendously. It reduced my stress, helped me gain confidence and gave me stability," says Vaidehi. More than anything, doing a Mandala encourages you to spend time with yourself, without the devices and the responsibilities. "When I'm working on a new piece, I go with the flow and I don't limit myself too much," she adds.
As for Mandala artist Vipra Agarwal, art saved her from the pressure of the pandemic. "I turned to Mandala during lockdown, and it stuck with me. It takes endurance because it can take several hours or even days," she shares.
Pro tip – According to Vipra, a beginner should always ensure proper alignment of each form, as one wrong move can mess up the whole process.
"It's as functional as it is beneficial"

If the many benefits of Mandala art aren't enough to grasp, artists tell us, it can be just as functional and useful too. Shweta makes lovely modern necklaces, earrings and centerpieces, featuring a colorful dotted mandala on them. While Vaidehi organizes beautiful wall mirrors, photo frames, cushion covers and rugs, turning every mundane object into eye-catching and vibrant pieces. The visual appeal and detailed illustrations of these products have contributed to their high demand.