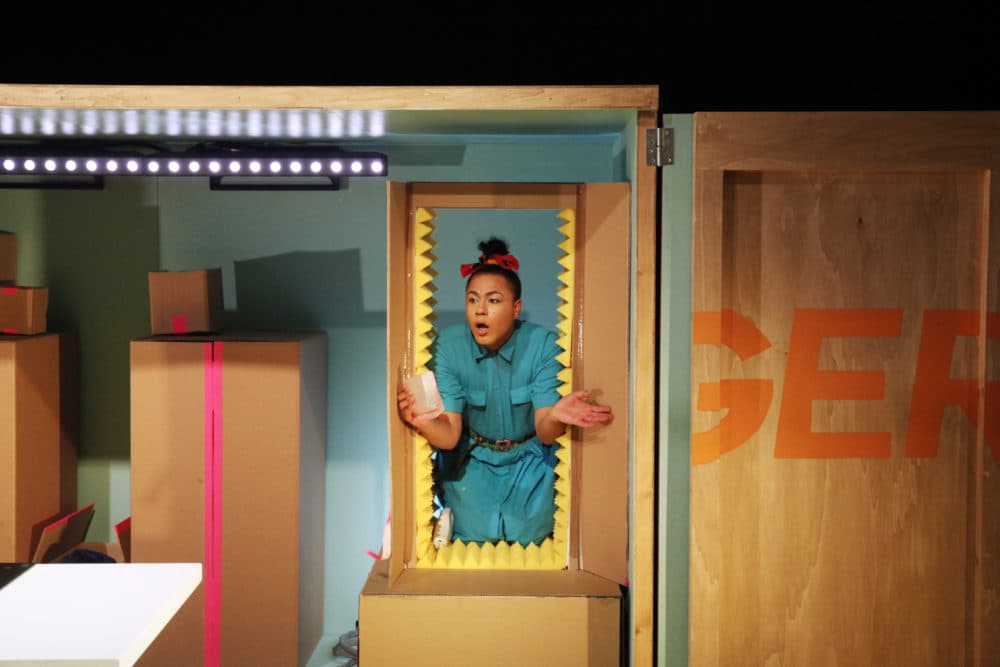 "Burgerz" at ArtsEmerson and "Too Fat for China" at Watertown think outside the box to explore issues
At its most compelling, theater rings with truths. Truths about the world we live in and about ourselves. Currently, two solo shows, "Too Fat for China" (April 29-30 at the Mosesian Center for the Arts in Watertown) and "Burgerz," use lived experience to speak to a critical moment in the lives of theater makers. and how these events relate to larger social failures or achievements. For Gloucester memoirist and comedian Phoebe Potts, her battle with infertility and subsequent adoption delivered with humor and grace in 'Too Fat for China' pushes her to cross uncomfortable boundaries in a racist and capitalist system. For powerful British actor and theater maker Travis Alabanza, who is trans, overwhelming aggression makes them reflect on our propensity for empathy for trans people in the midst of danger and adversity.
At Alabanza's major show, presented by ArtsEmerson (through April 24 at Paramount Center's Jackie Liebergott Black Box Theater), the actor says you need to put yourself fully on stage. This is one of the requirements the creative calls for when asking for volunteers. Alabanza needs help making a step-by-step burger on stage and ends up stumbling upon a white, cisgender man to help them.
The play – cleverly directed by Sam Curtis Lindsay – part cooking show, part elucidating commentary delves into a violent act where a hamburger was thrown at Alabanza on Waterloo Bridge in London in 2016. Alabanza says more than 100 people saw, but onlookers did not come to the rescue, offer comfort, or confront the assailant. What Alabanza remembers most is meeting the eyes of a passerby, a woman, who looked at them, looked at the burger and the attacker, and continued on her way. This memory remains etched in the mind of Alabanza. Well, that and the mayonnaise on their dress.
After the attack, the incredibly talented Alabanza became obsessed with the burger and wanted "to figure out how it works, how it flies, how it smells, how it lands. And maybe I could get some agency on it."
The thought-provoking spectacle – delivered with sharp wit and masterful direction – is a critical recovery. It starts with Alabanza quickly unpacking and assembling the kitchen which was stored in a large wooden box. When it is finished, the artist and the volunteer get to work. The first thing they need to do is choose a box to put the burger in. But how can an unmade burger be categorized and canned? emphasizes Alabanza. What if it's not a perfect circle or if its shape changes during cooking?
Burgers, like people, come in all shapes and sizes. For burgers, toppings are where you can do the food yourself. Sure, you can go wild, but there are expectations, says Alabanza, for a burger. The same goes for people. And that's the problem.
Alabanza's trip is set aside or mocked (at least in part) because it's visible. Alabanza talks about tripping on the stairs, being kicked out of a widely reported Topshop dressing room, and being teased by a group of school children. Since Alabanza is of color, some encounters are racialized, and Alabanza, who also has an upcoming book, "None of the Above: Reflections on Life Beyond Binary," explores identity through seven sentences that people said to them, do not hesitate to suffer. Instead, the artist who leverages long moments of silence and humor to convey his message charges forward, poetically laying out the cause of transphobia and racism. The show's bite isn't just about the tossed burger; it's about seeing Alabanza, who seemingly transforms from a one-piece sweater to a dress with purple suede heels, and the trans community as people worthy of the same rights as everyone else.
We got into this "sick cycle," says Alabanza, "where bad things happen to people and then they have to get on stage and play them to be believed. Bring lights, bring decor, bring costume make you laugh… the very people who have their hands wrapped around our necks. You have your hands wrapped around our necks.
Alabanza and Potts have turned their experiences into art that aims to stimulate empathy with people around important issues. The emotional narrative of "Burgerz" shines a light on the plight of the trans community, but more than that, it asks the audience not to sit idly by when someone is hurt, but to take action, to show empathy and simply realizing our common humanity.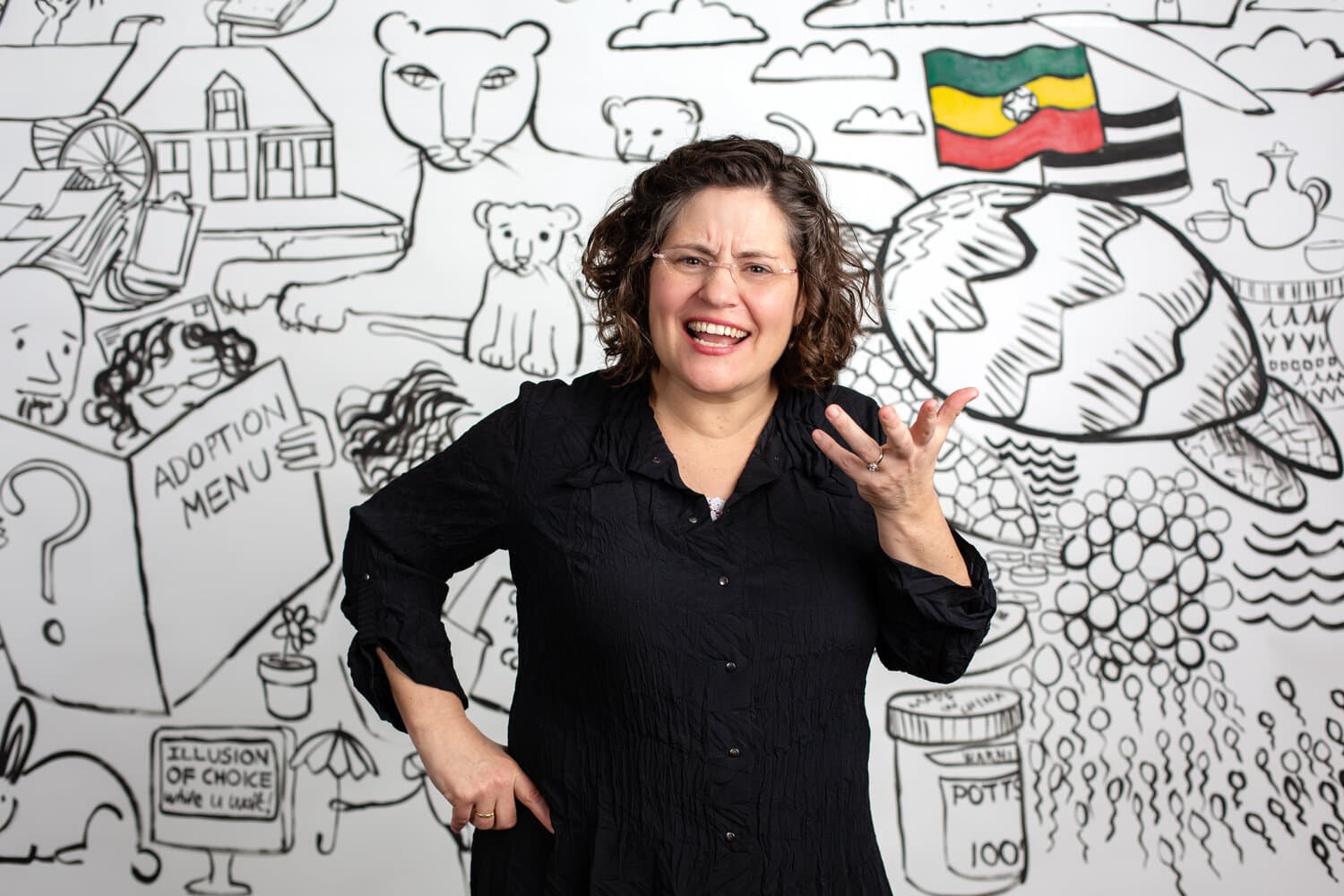 And Potts' exploration of the adoption system – co-produced by Gloucester Stage – here and abroad has brought our country's racist history to center stage. Potts talks about parents who benefited from "going white" (she and her husband's parents were immigrants from Ukraine, Poland, Hungary and Scotland) after the GI bill and how her exclusion of black soldiers created a vast chasm between the haves and the haves. -not. Only those with enough resources can navigate the adoption system that Potts rightly hates, and she acknowledges its privilege. She notes how contradictory it is to buy a baby, especially a black child (significantly lower price than children of other races, she says), that in China her BMI is too high to adopt and how she stood aside (in her white supremacist lima bean stadium, she says) doing nothing when a nurse made an insensitive racially motivated comment.
"Lima bean white supremacy," says Potts, "is when I'm faced with a nice, juicy opportunity to interrupt someone else's racism. And instead, all of my morals and values ​​are folding in on themselves. And I become dumb.
These uncomfortable moments mixed with humor do not hide the damage caused. Yet laughter makes the pain palatable enough to (perhaps) ensure the stories' lingering impact after leaving the theater seats. But hopefully the work alerts us to some truths we might have missed along the way.
_
---
---
---
---
---
---
---
---
---
---
---
---
---
---
---
---
---
---
__
"Burgerz" presented by ArtsEmerson runs through April 24 at the Jackie Liebergott Black Box Theater at Paramount Center. "Too Fat for China," co-produced by Gloucester Stage Company, takes place April 29-30 at the Mosesian Center for the Arts in Watertown and streams on Vimeo through April 26.